When you first arrive at UC Merced, you might wonder how you will meet people. You can start by leaving the comfort of your room, exploring campus and following your interests, whether in dance, gaming, photography, robotics or anything else. Once you find your niche, you'll feel part of the close-knit UC Merced community and start making the friends with whom you will share your entire college experience.
A Place to Call Home
On-Campus Housing
Residence halls offer computer labs with printers, study lounges, a laundry facility with an Internet notification system, a gaming center, a dance and music room, kitchens, outdoor barbecues and more.
Take a virtual tour: housing.ucmerced.edu/tour
Off-Campus Housing
Transfer students living in our Heritage community will reside in one- or two-bedroom apartments with two to four people in the Merced community while maintaining many of the conveniences of on-campus housing. Apartments will include paid utilities, be furnished with bedroom and living room furniture, and include kitchens.
Find more information: housing.ucmerced.edu/heritage
Virtual Tour
Take a 360-degree tour of UC Merced. Scroll up, down and side-to-side to explore our campus including classroom buildings, housing, library, recreation areas, student services buildings, and vernal pools. You can even tour Yosemite National Park and the Sierra Nevada Research Institute Yosemite Field Station in Wawona. Enjoy the virtual tour but be sure to see our campus in person, too.
Dining Options
Residents can use their residential dining plan to enjoy the variety of contemporary restaurant-style meals in the Yablokoff-Wallace Dining Center and the new Dining Pavillion at Little Lake. Foods such as Asian, Italian, Mexican, grilled items, vegetarian, gluten-free items, salads and much more are available.
CAT Dollars also allow a resident to purchase food and convenience items at other on-campus locations such as The Summits Marketplace, Campus Store, Lantern Café and food trucks.
Find more information: https://dining.ucmerced.edu/
Campus Safety
UC Merced strives to keep the campus community as safe as possible. Our full-service UC Merced Police Department is always on call. Emergency blue lights, which are direct lines to the police dispatcher, are located all around campus. In the event of a critical incident, messages are sent to students, staff members and faculty by text message or email immediately using UCM Alert.
Life Outside the Classroom
Student Life
Activities: There's something for everyone, and something is always happening: Movie nights, luau beach parties, spirit days, cultural events, dance crew battles, guest speakers and more. You'll see excited faces from all over campus at our most popular annual events – the harvest carnival and concert Treats 'N Beats, CABsterical Comedy Jam, Winterball, Soul'd Out Poetry Jam, Bobcats Got Talent, and the biggest draw of the year, the Cowchella music festival.
Clubs and Organizations: Clubs & Organizations: The Anime Club, Black Student Union, Bobcat Theater, Pilipino American Alliance, Pre-Pharmacy Club and The Prodigy News are only a few of the more than 200 clubs and organizations UC Merced students have formed. If you can't find a good fit, you can tap into the school's pioneering spirit and start your own!
Greek Life: UC Merced's fraternity and sorority community has 20 recognized chapters on campus. Collectively, Greek Life provides a wide range of academic, social and community service activities.
Athletics
Whether you're an athlete or fan of college athletics, you can get involved by showing up and teaming with Rufus to cheer on the blue and gold!
Mascot: Rufus
School colors: Blue and gold
Affiliation: National Association of Intercollegiate Athletics (NAIA)
Conference: California Pacific (CalPac)
Men's and women's varsity teams: Basketball, cross country, soccer, volleyball
Athletics facilities: Joseph Edward Gallo Recreation and Wellness Center; Student Activities and Athletics Center
More info at ucmercedbobcats.com.
Recreation and Wellness
Recreation & Wellness: If your idea of wellness is fresh air and fun outside, an energetic place to do lifts and reps, or a chance to push, pull, run and pedal in matchups with other students, you're in luck!
Sports clubs: Archery, baseball, Bobcat Strength, cheer, cycling, dance, golf, martial arts, softball, tennis, water polo, wrestling
Intramural sports teams: Futsal, basketball, dodgeball, indoor and grass volleyball, flag football, soccer, ultimate Frisbee
The OUTDOOR EXPERIENCE PROGRAM (OEP): The OEP is UC Merced's hub of all things outdoors. There are activities like Week of Wilderness, Granite Clinic and Speaker Series and Open Wrench bicycle repair sessions, and you can even rent outdoor equipment and kayaks. Outdoor Adventure trips include exploring Yosemite, skiing and snowboarding in the Sierra, rafting the American River, kayaking in the San Francisco Bay and surfing in Santa Cruz.
Fitness: You'll find state-of-the-art cardio, fitness and group exercise equipment in our recreation center. Group fitness classes range from cycling to yoga, and personal trainers are always an option.
Healthy Competition: Flex your muscles and enter the annual Strong Cat Competition (tire flip, truck pull, farmer's walk, weight plate over-head hold – piece of cake, right?), run in the Cat Trails 5K or 5-mile race, or pedal your heart out in a cycling road race.
More info at recreation.ucmerced.edu.
Where is UC Merced?
Be prepared: Your friends and family are going to ask where Merced is. Just tell them this: Merced is in the middle of everything.
In the Middle of Everything
UC Merced is located in the center of California's northern Central Valley. Merced is your quintessential small town, with a tree-lined downtown filled with mom-and-pop shops, restaurants and a theater, but with amenities that a larger town might have, such as a mall and larger eateries.
Merced is also centrally located, which means that if you schedule a route north, south, east or west in your map app, you'll run into a city or attraction that's easy to get to.
Gather your roommate and some friends, check out marine life at Monterey Bay Aquarium, explore the diverse neighborhoods in San Francisco, go skiing at Dodge Ridge, or sit on the beach during the day and hit the boardwalk at night in Santa Cruz.
7 Destinations within 2 Hours of UC Merced
Yosemite National Park. There's a reason why Yosemite is considered one of the wonders of the world. UC Merced students regularly take advantage of the fact that being one with nature is only a short drive away.

San Francisco. Golden Gate Bridge. Clam chowder in a sourdough bowl (but take a picture of it first). Diverse neighborhoods. Giants games. Alcatraz (spoiler alert: no actual inmates).

Santa Cruz. Dozens of beaches by day, boardwalk arcades and rides by night. A movie on the beach or monarch butterfly sightings if you time your trip right.

Monterey Bay Aquarium and Cannery Row. Stunning marine life up close, rocks on the shore to climb afterward, and a famous waterfront street to wander once your shoes and socks are soaked.

Dodge Ridge and China Peak. Skiing and snowboarding. (Hot cocoa in the lodge is okay, too.) Selfies in the snow!

Sacramento. State capitol tours. Gold Rush-era buildings, restaurants and museums in historic Old Sacramento. (The state fair takes place here, too. Ferris wheel selfies!)

Gold Country. Quaint and thriving downtowns in Columbia, Jamestown, Murphys, Sutter Creek and more. Gold panning and live re-enactments for your history fix.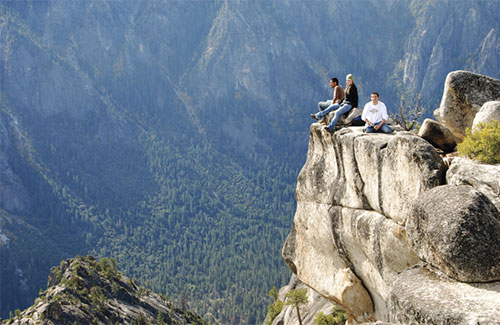 Yosemite: Our Majestic Neighbor
You know those photos on Instagram and Twitter of people hiking trails, climbing rocks and river rafting? There's a good chance they're snapping those selfies in Yosemite National Park, at Half Dome, El Capitan, or Bridalveil and Yosemite Falls.
Merced is called the Gateway to Yosemite for a reason. We're only 2 hours from Yosemite Valley. You also can take advantage of the Yosemite Area Regional Transportation System (YARTS), buses that will pick you up on campus and take you to the park; no driving required.
LifeAtUCMerced on Instagram
Follow us at @LifeAtUCMerced!